The scheme of this project displays two aligned rectangular volumes, shifted in height: the elevated wooden cube and the ground level rectangular prism.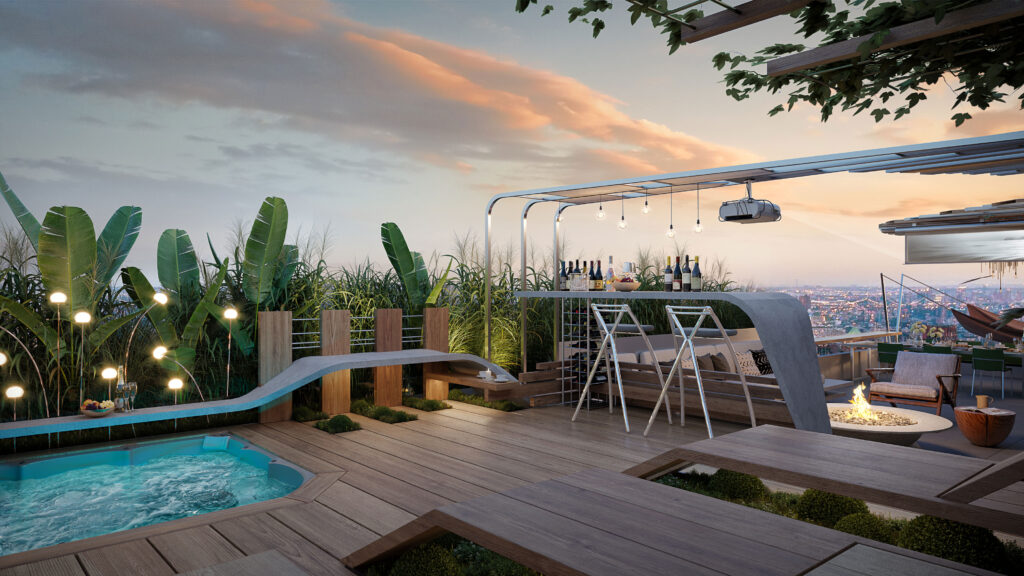 Considering that these volumes reveal a 270-degree view of Badaro city, it was important for the design strategy to focus not only on the relation between the terrace's components, but also on their connection with the different views.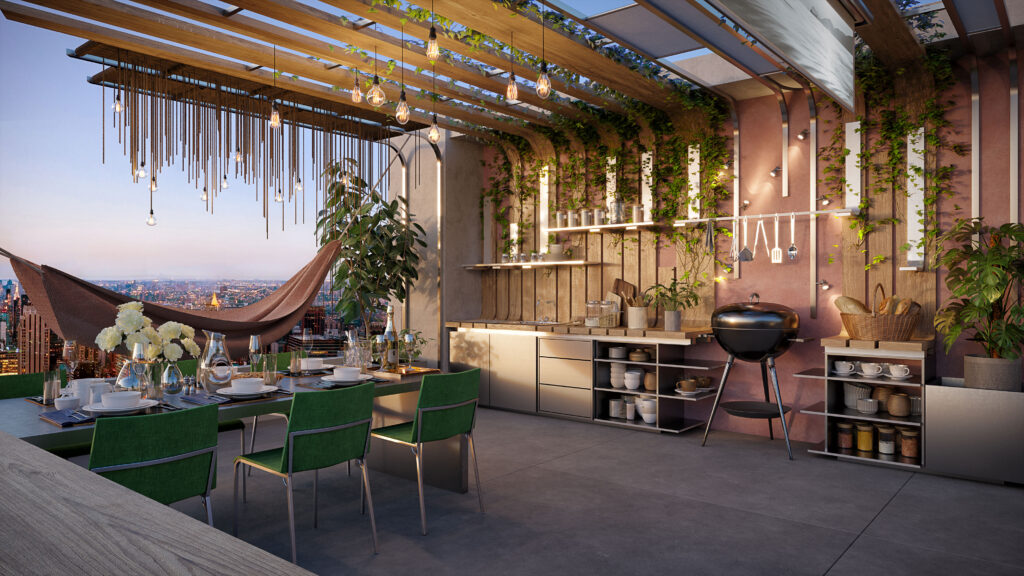 Here, five main scenes occur, offering to the terrace its own identity:
The suspended hammock, the barbecue zone, the fireplace and screen projection, the bar and the Jacuzzi.
Given that these scenes coexist, they connect in a way to reinforce this terrace's character.
In fact, a three-dimensional pergola, extending from east to west, gather the terrace's elements under its roof.
On the far west, the pergola starts as a structural component to the suspended hammock. It then becomes a support for the lighting bulbs above the dining table and a countertop for the barbecue zone. It uses subsequently its concave curve to expose the fireplace region, before extending to the wall, to convert into the stairs, the bar, and the projection system's support, finally taking the profile of smaller green wooden pergolas covering the lounge chairs. Although this pergola stretches on both rectangular volumes, there is an obvious change of mood between these latter.
The wooden deck is surrounded on two sides by tall plants, creating an opaque façade and isolating the Jacuzzi from the rest of its surroundings. Here, floor mounted lightbulbs blend with the nature, keeping a homogeneity in the overall mood. The elevated space seems disconnected from the city and overlooks the fireplace and projection screen. On the lower level, the planted railing transforms into a simple glazed balustrade, offering an interaction with the city. Here, both the hammock and the standing bar enjoy the transparency created between the terrace and the rest of Badaro.